Ferrous Ascorbate and Folic Acid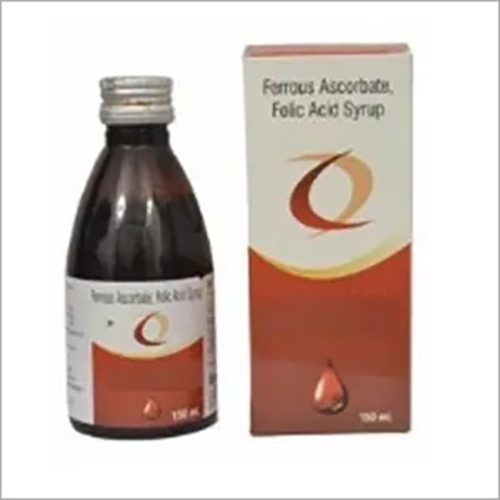 Ferrous Ascorbate and Folic Acid
Price And Quantity
Product Specifications
Product Description
Product Name: Ferrous Ascorbate and Folic acid
Description
Ferrous ascorbate 30mg + folic acid 550mcg for 200 ml
FERROUS ASCORBATE Ferrous Ascorbate is a synthetic molecule ofascorbic acid and iron.It is indicated in the treatment of iron deficiency anemia. Ascorbic acid enhances absorption of iron.

FOLIC ACID Folic acid also known as folate, vitamin B9 and it isessential for numerous bodily functions.Folate has to be supplied through the diet to meet their dailyrequirements. The human body needs folate to synthesize DNA, repair DNA, and methylate DNA as well as to act as a cofactor incertain biological reactions. It is especially important in aidingrapid cell division and growth, such as in infancy andpregnancy. Children and adults both require folic acid toproduce healthy red blood cells and prevent anemia.

INDICATIONS:
Iron deficiency anemia (anemia is a condition in which thebody does not have enough healthy red blood cells. Redblood cells provide oxygen to body tissues). It help to prevent neural tube defects.Some people use folic acid to prevent colon cancer orcervical cancer. It is also used to prevent heart disease andstroke.

HOW FOLIC ACID WORK ?
The basic mechanism of action underlying folic acid is its role incellular division and DNA synthesis. Without folic acid cells do notdivide properly. Folic acid is critical in the nervous system development of thefoetus and for healthy red blood cell production. Folate is alsorequired for the regeneration of methionine from homocysteine and plays a key role as a methyl-donor. In the CNS folate is involved with methylation and hydroxylation,and both reactions are important in neurotransmitter synthesis andmetabolism. Folate is concentrated in the synaptic regions of CNS neurons.

DOSAGE: Three teaspoons in one day.